Measure 15cm below the knee and 15cm above the knee
Q Does it have a seam?
A. Because the product is anatomically knit to best fit the body, it has a seam on the side of the support. The seam is very flat and not irritating.
Q. What's the difference between GenuTrain and GenuTrain P3?
A. GenuTrain P3 was specifically designed to treat patellar subluxation (shifting). Therefore, the silicone insert in the P3 has a tracking guide to prevent the patella from shifting out of place. It is also a little bit longer and has 4 stays, rather than 2, because the silicone insert is a lot larger than the GenuTrain insert.
Q. What are the stays made of and what are they for?
A. The stays are made of spiraled stainless steel (like a slinky toy when it is flat) so they are very flexible and won't rust when wet. The stays have plastic tips on the ends so they won't make holes in the material. The stays help prevent the support from rolling.
Q. Why is the kneecap covered?
A. The knit material lightly covers the patella to prevent swelling from developing in this area. GenuTrain's unique, 3 dimensional knit does not put excess pressure on the kneecap, which is a benefit.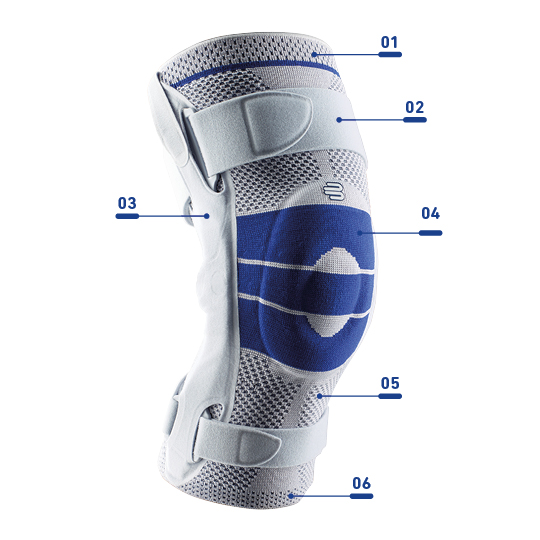 Three-dimensional fabric - Automatically conforms
to the body's natural shape for ideal fit and optimal joint stabilization.
Adjustable straps - Lets you control the amount of
pressure, for a better fit and just the right amount of support.
Joint side bars - Straps connect directly to side
bars for superior stability in the knee and surrounding area.
Viscoelastic pads - with a massage effect during
movement
Soft knit fabric - Breathable knit is comfortable
to wear and keeps moisture away from the body.
Reduced pressure at the edges - prevents
constriction
Treatment of
Arthritis of knee (advanced)

Rheumatoid arthritis

Bone on bone arthritis

Medial collateral ligament sprains (MCL)

Lateral collateral ligament sprain (LCL)

More advanced knee sprain

Mild to moderate knee instabilities

More advanced meniscus tears